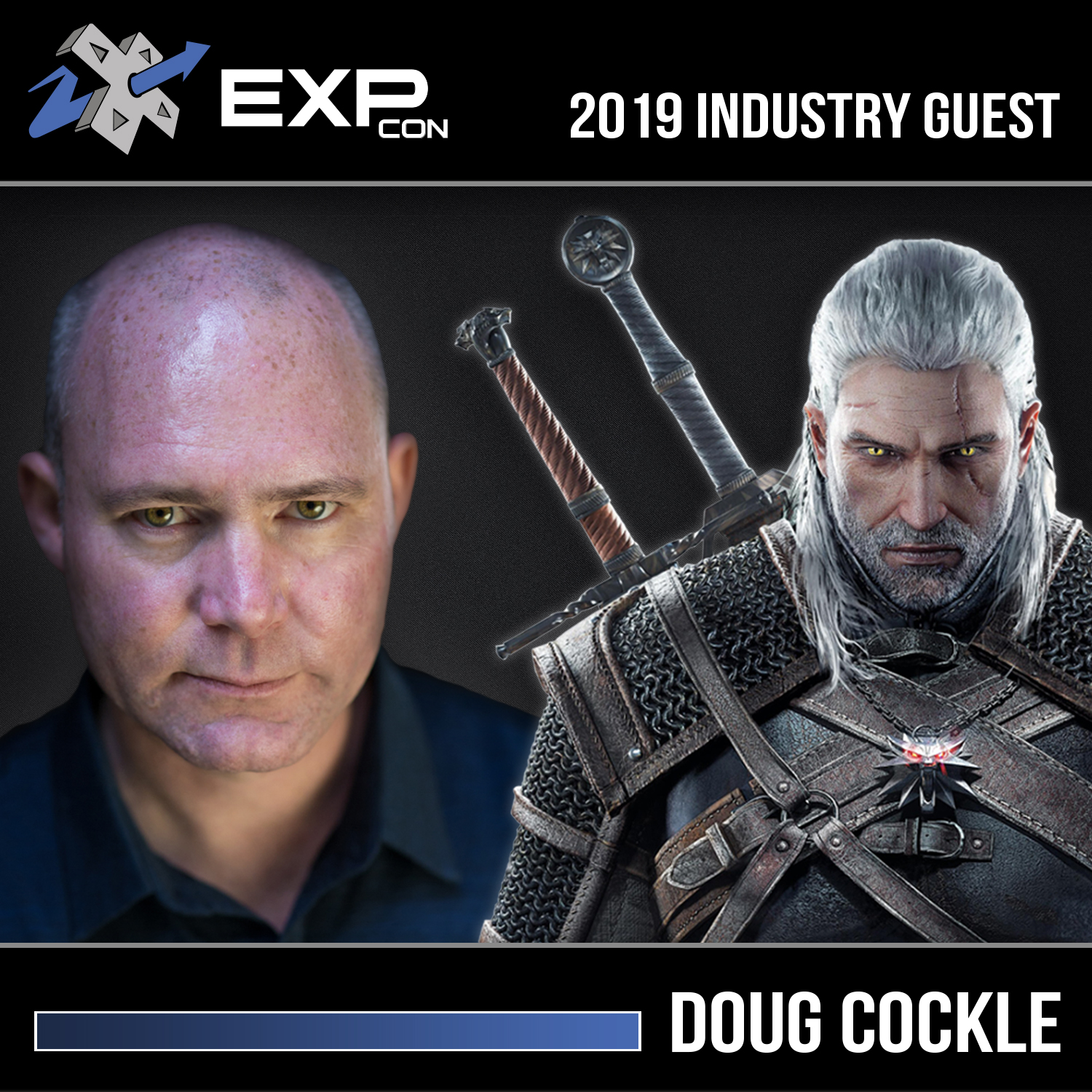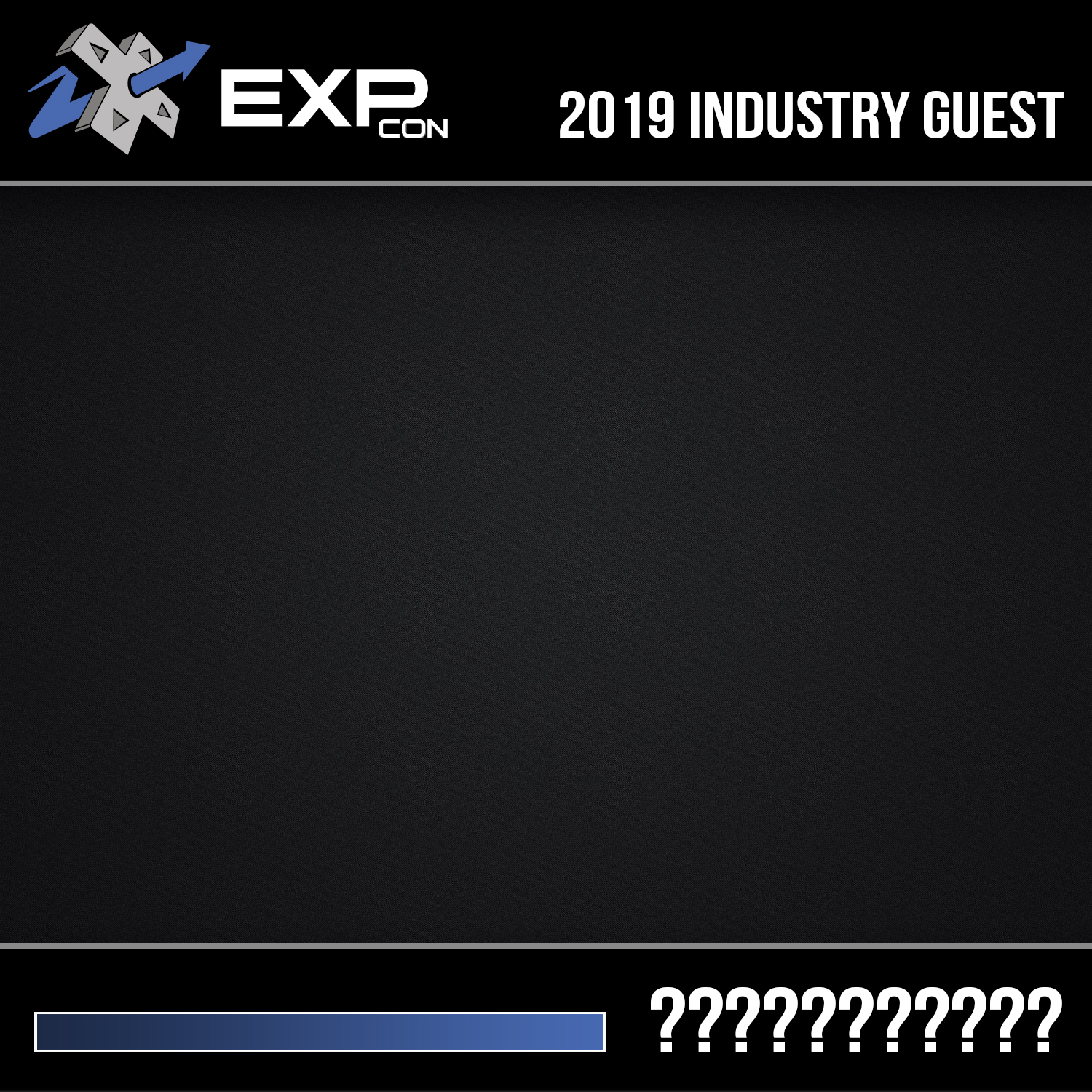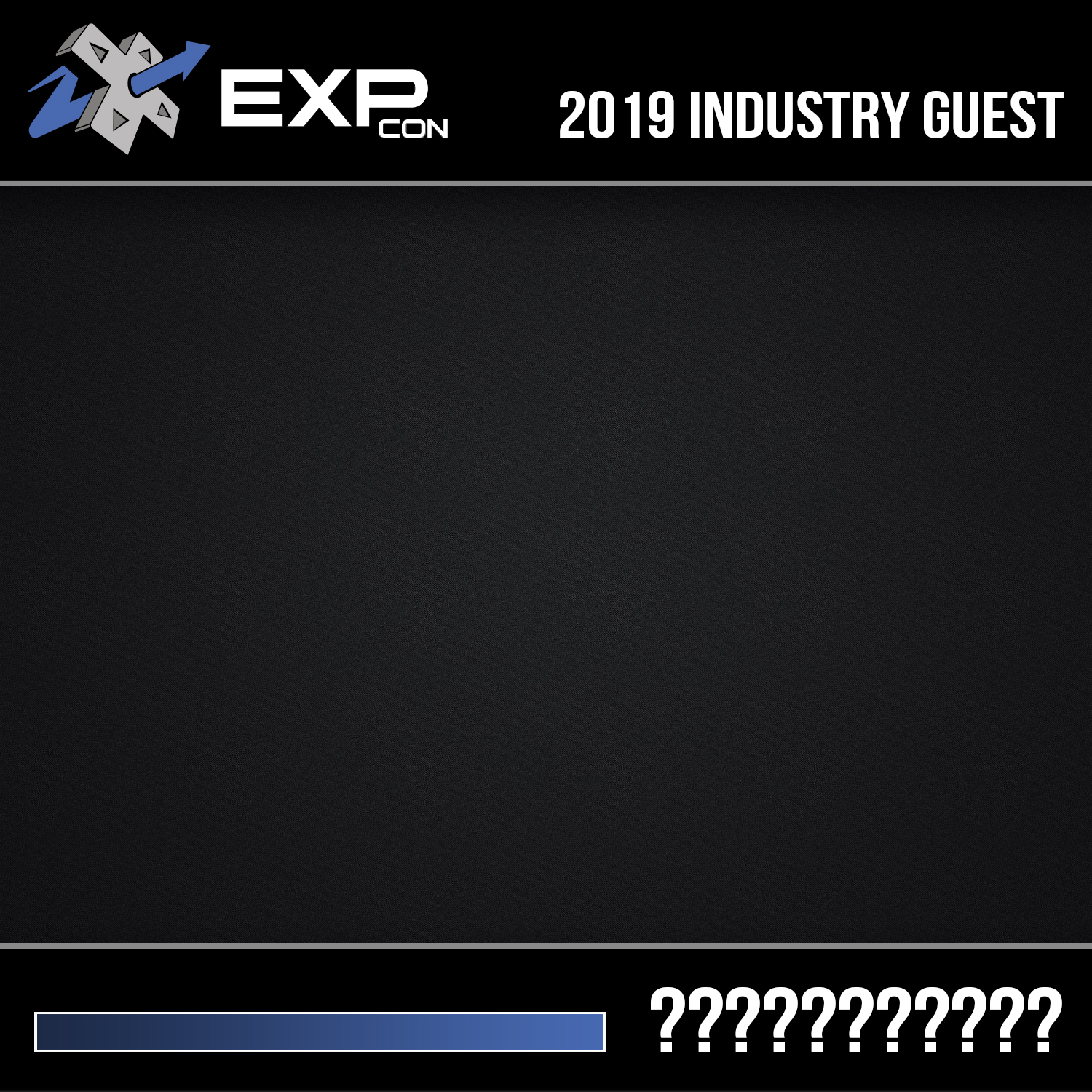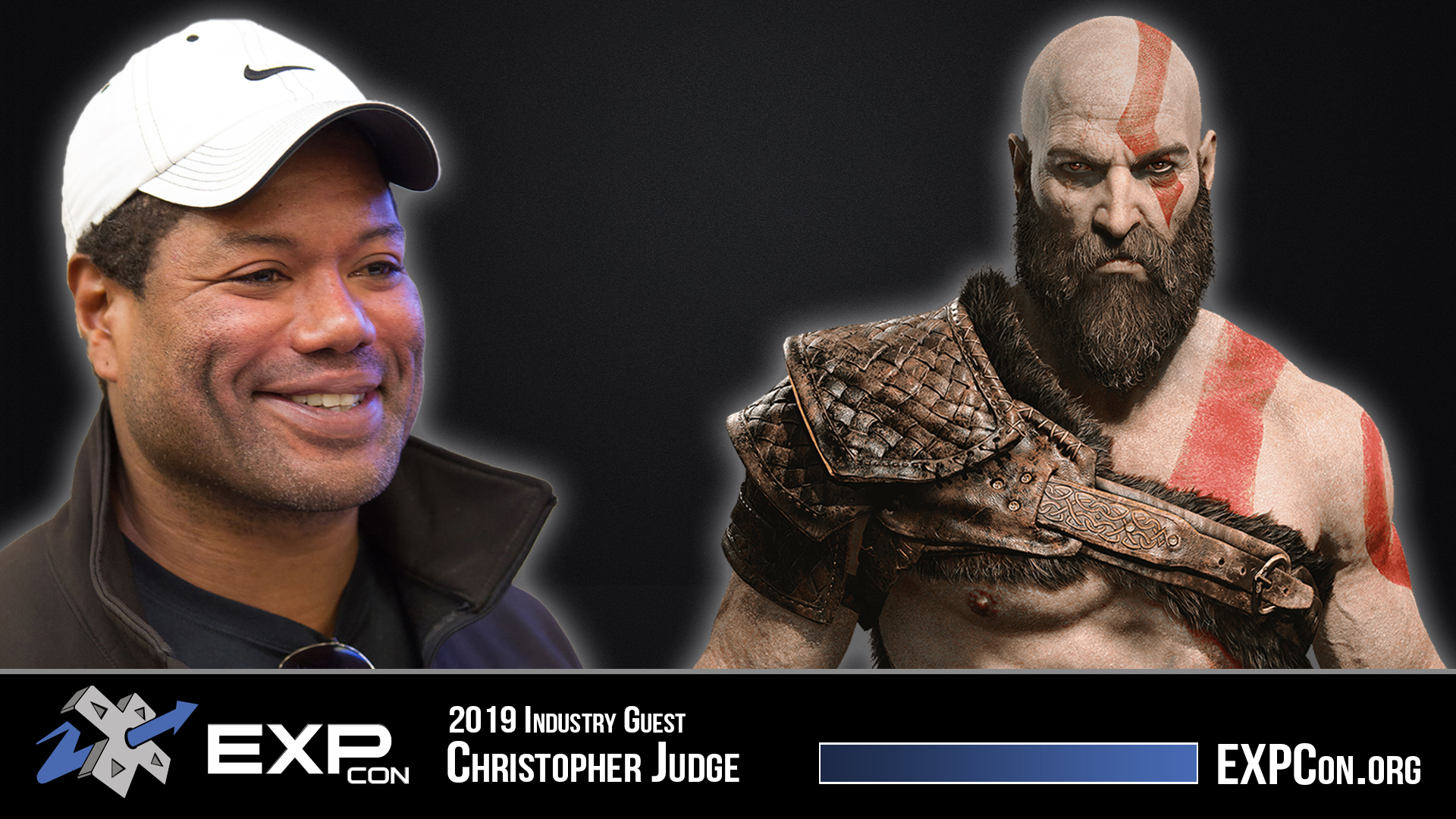 Christopher Judge is an American actor best known for playing Teal'c in the Canadian-American military science fiction television series Stargate SG-1. Fans of video games would recognize Judge's voice as Kratos in the new God of War 4. He attended the University of Oregon on a football scholarship and was a Pacific Ten Conference player. He attended the University of Oregon on a football scholarship and was a Pacific-10 Conference player. Judge always knew that he wanted to be an actor, wanting to invoke feelings in others that he was receiving from the shows. He realized quickly that sports would be the stepping stone to an acting career. Attending the University of Oregon on a football scholarship, Judge led in kickoff return yardage for 1983-84 and interceptions in 1984, in addition to earning the Casanova Award in 1982 (given to the freshman or newcomer of the year). Judge was also a three-time All-American, a Pacific-10 Conference Selection in 1984, and played in the 1985 Hula Bowl.
While at Oregon, Judge was a pre-med major, then psychology, then telecommunications and film, with a minor in psychology. In his senior year, he won a regional contest to host the West Coast Fox KLSR Morning Show, an "MTV talk show-type thing"; he used this experience to get an agent and move to Los Angeles. Judge began studying at the Howard Fine Institute in LA in 1989. Some early roles were Bird on a Wire (1990), Cadence (1990), Neon Rider (1989) and MacGyver (1985) with future Stargate SG-1 (1997) star Richard Dean Anderson. In the ensuing years, Judge had small parts in various television shows and movies, such as 21 Jump Street (1987) (with future SG-1 director Peter DeLuise), The Fresh Prince of Bel-Air (1990), and House Party 2 (1991), and as a regular on Sirens (1993) from 1994 to 1995.
Judge's largest role came in 1997 with Stargate SG-1 (1997). While at a friend's house, he saw his friend's roommate practicing for an audition and was intrigued. While the roommate was away, Judge looked at the audition notes, then called his agent and insisted he get him an audition, or lose him as a client. At the audition, there were three sets of actors for each of the principal roles, but eight or ten for the role of "Teal'c". Judge was confident he got the part when they dismissed everyone who read for the part, except him. Out of all the actors on "Stargate SG-1", Judge has been in the most episodes.
More recent works of Judge's include guest spots on Andromeda (2000) and Stargate: Atlantis (2004), the television movie Personal Effects (2005), and the films, Snow Dogs (2002) and A Dog's Breakfast (2007), the latter written and directed by fellow "Stargate" actor, David Hewlett. Judge has written three episodes of Stargate SG-1 (1997): Stargate SG-1: The Changeling (2003), Stargate SG-1: Birthright (2003) and Stargate SG-1: Sacrifices (2004). After "Stargate SG-1" was canceled, Judge began writing a script for a show called "Rage of Angels". Judge also does voice acting for animated series and video games, including the voice of "Magneto" on X-Men: Evolution (2000) and the canceled "Stargate SG-1: The Alliance". In the season eight episodes of "Stargate SG-1" (Stargate SG-1: Avatar (2004) and "The Warrior"), Teal'c informs SG-1 that he plays Def Jam Vendetta (2003), alluding to the fact that Judge was a voice actor in that game. He is also known for voicing "Jericho" in Turok (2008).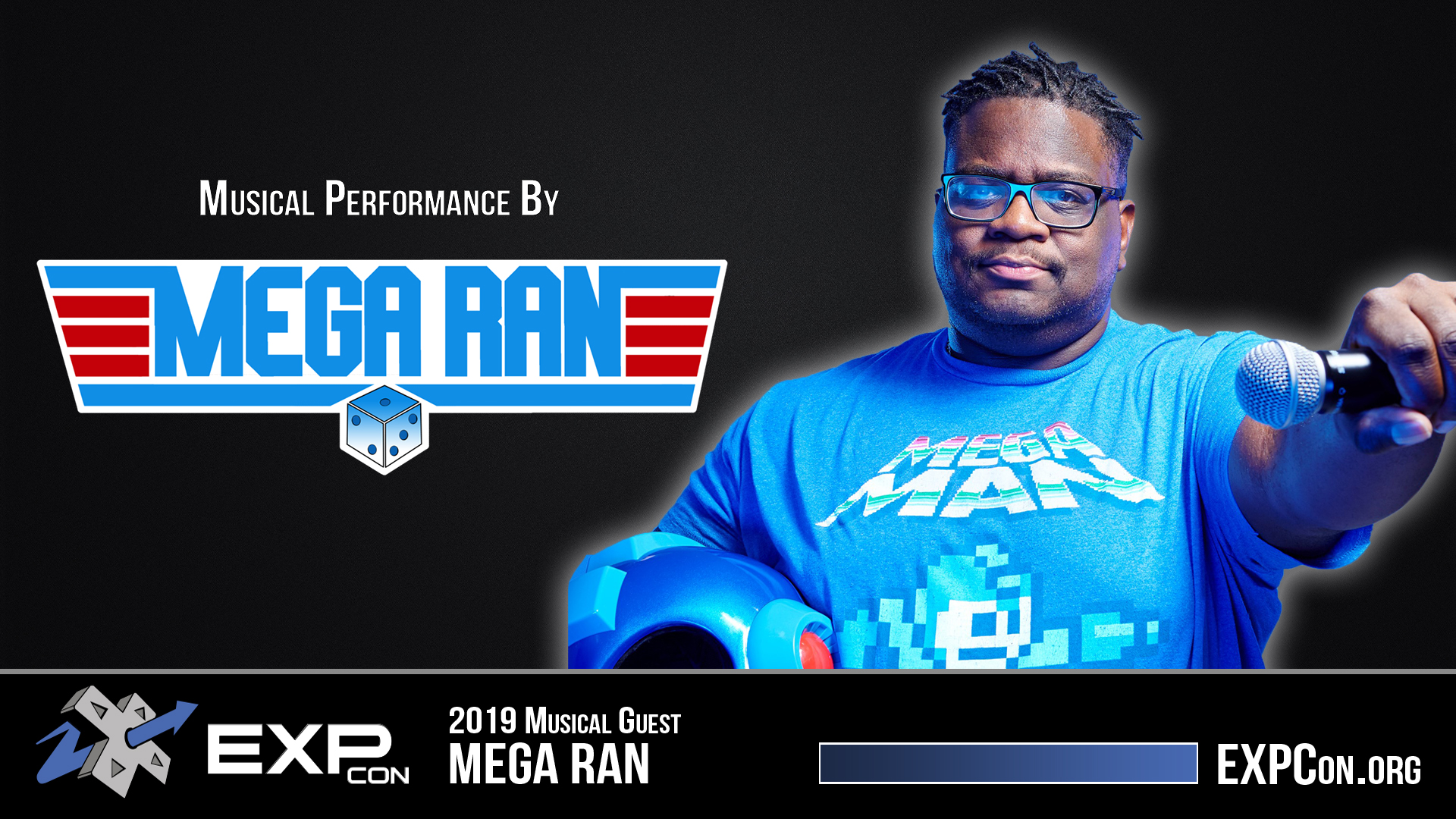 Random, aka Mega Ran, aka RandomBeats… Teacher, Rapper, Hero. Guinness World Record Holder. When LA Weekly said that Ran's fanbase and niche audiences are growing at a rate not seen since Tech N9ne, they meant it. A former middle school teacher, Mega Ran (formerly Random) blends education, hip-hop and gaming in amazing new ways, penetrating the farthest reaches of the galaxy with his unique rhyme style and electric performances. Ran cut his teeth in the city of Philadelphia as a moonlighting emcee and producer, performing, freestyle rapping, producing and later engineering at a studio. After relocating to Phoenix, competing in the Scribble Jam emcee battle championships and taking an early exit, Ran almost quit before he was even started, when a creative lightning bolt struck, and a fire was lit.
Various video game developer co-signs and admiration from the genre's toughest critics have led to placements in TV, movies, university coursework, and of course, games. Ran's music and story have been shared on stages across the world, on television (ABC/NBC News, ESPN, Portlandia, Tosh.O, WWE Wrestling) and in leading music, gaming and tech publications, print and online. Today, Mega Ran is no longer a teacher by title, but maintains a rigorous touring and recording schedule, traveling the world to entertain and educate through the gift of rhyme. With four Billboard charting albums, 3 million YouTube views and a legion of smart art fans he calls 'Team Mega' beside him, the future looks brighter than ever.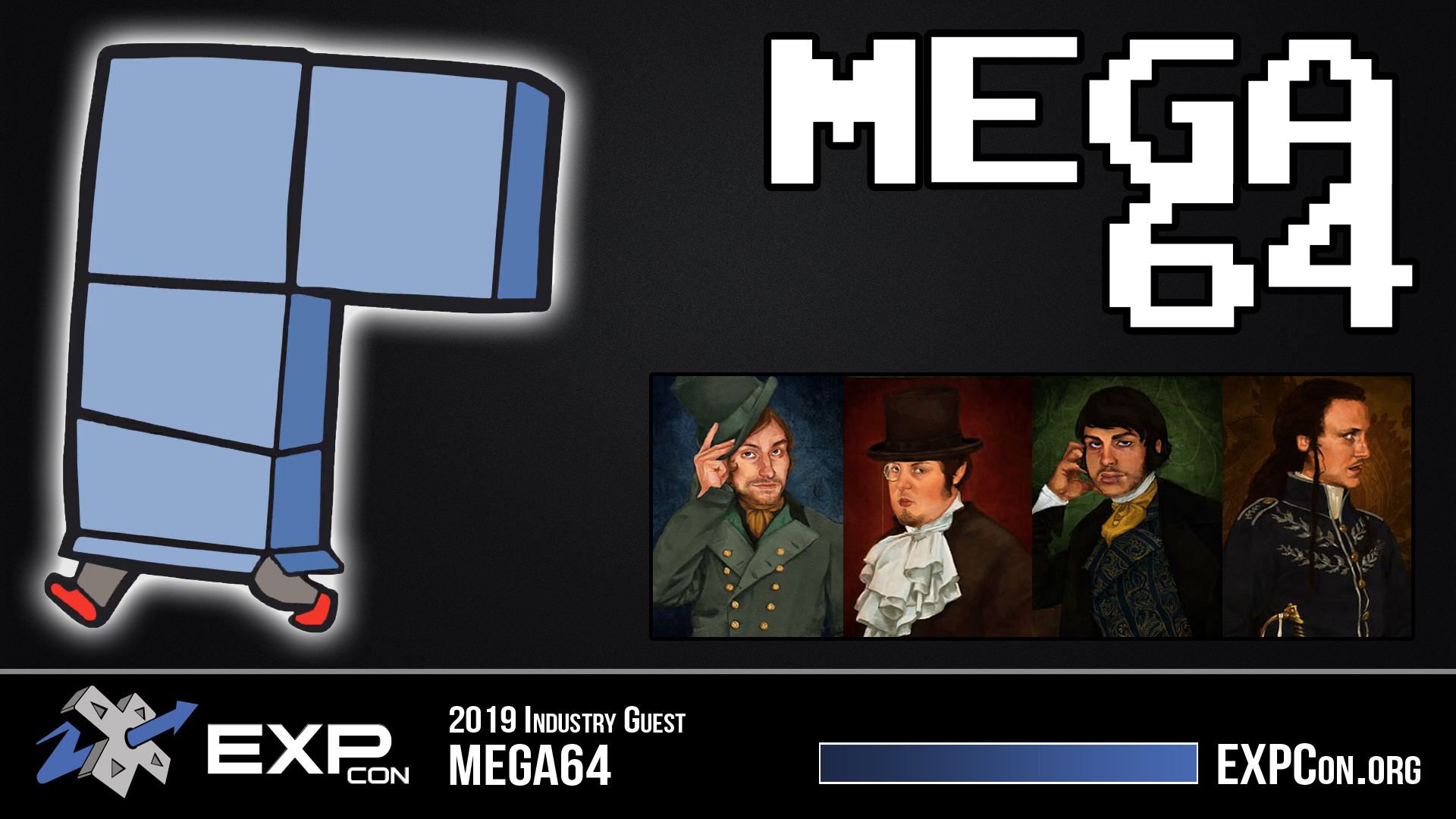 In the not too distant future, scientist Dr. Poque creates a gaming console with the ability to tap into the human mind, making games appear real to its users. He "recruits" two specimens named Rocko and Derek to be enslaved in a hidden beta-testing camp for his device. While Rocco and Derek are hooked to the device (called the Mega64), the viewer sees them acting as characters in the corresponding game, interacting with normal people in San Diego who are often unaware that they are on hidden camera, but are notified after the filming is completed. Occasionally, however, the cameraman will be out in the open, in situations where covert filming is unnecessary or impossible.Another character, named Shawn, is initially hired by Dr. Poque as Rocko and Derek's "E-mail delivery man" but also starts taking part in the Mega64 experiments. Shortly thereafter, two additional characters are introduced: a puppet named Marcus, who is presumably working for Poque; and Horatio, Poque's eccentric Mexican roommate. Check out the official Mega64 site here.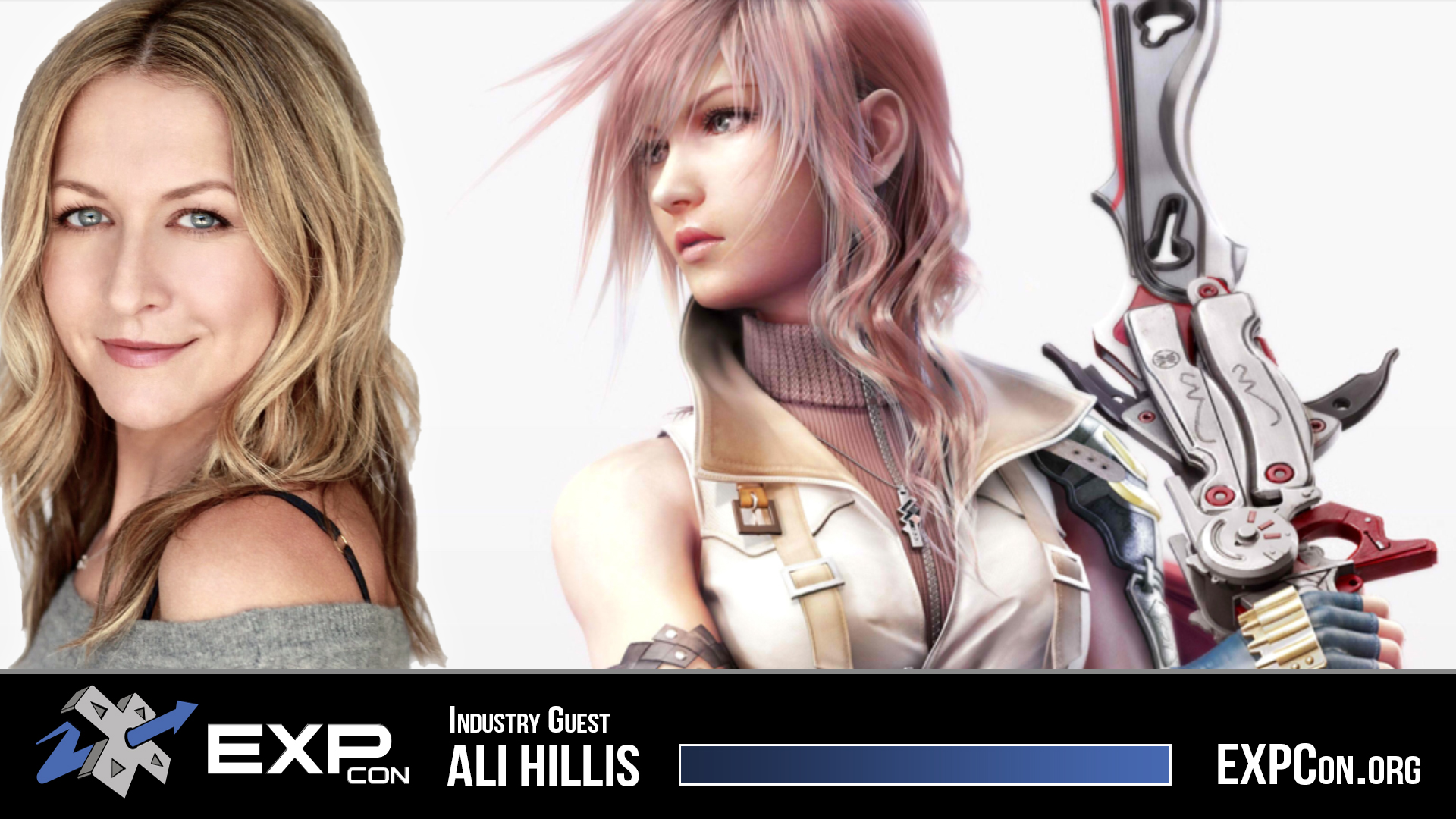 Most celebrated in the Con World for voicing iconic roles like Lighting in the FINAL FANTASY franchise and Liara T'Soni in the MASS EFFECT trilogy, Ali Hillis also brings with her a growing crew of video game characters that keep fans coming back for more! She voices Karin in NARUTO, Palutena in KID ICARUS, Ruby in THE WALKING DEAD, Scout Harding in DRAGON AGE, Sophia in GEARS OF WAR, Samantha Cross in CALL OF DUTY, as well as memorable roles in SPIDER-MAN, RATCHET & CLANK, LEGO MARVEL'S AVENGERS, MAD MAX, FUSE, TALES OF XILLIA, ADERA, STAR WARS: THE OLD REPUBLIC, STARCRAFT II, & XENOSAGA, to name a few. You've also heard Ali in hit animated series' including Karin in NARUTO, Pepper Potts in MARVEL DISC WARS: THE AVENGERS, Emma Frost in X-MEN, as well as lending her voice to fun roles in CLOSE ENOUGH, AMERICAN DAD, REGULAR SHOW, & FAMILY GUY, with more new shows in the works! 
Though she's built quite a name for herself in the world of video games & animation, Ali spends a lot of her time on screen. You may recognize her from 2019's last several episodes of ABC's GREY'S ANATOMY, or from her arc on FOX's 9-1-1, CBS's CSI, NCIS, NCIS: LA, & CRIMINAL MINDS BEYOND BORDERS, John Singleton's REBEL on BET, and the gone but not forgotten BONES on FOX, and CASTLE on ABC. Her big screen credits include memorable roles opposite big names in films including festival favorite THE ROAD WITHIN, the Farrelly Brothers' HEARTBREAK KID, 20th Century FOX's THE ULTIMATE GIFT,  Disney's BEVERLY HILLS CHIHUAHUA, Warner Bros MUST LOVE DOGS, and many more! The first of which was the cult favorite KISS KISS BANG BANG… "Buzz buzz, go away Mr. Fly". *See full list of credits on IMDB.com
If work, family life, and 3 dogs didn't keep her busy enough, Ali loves to spend time rescuing, spay-neutering, rehabilitating, and homing sweet animals from LA's streets and animal shelters. So don't be surprised if she has a little raffle or auction happening at her table!! 100% of the proceeds goes to the animals! Enter to win some fun swag!!  Follow Ali on Instagram and Twitter @MissAliHillis for winner announcements and to see what else she's up to!!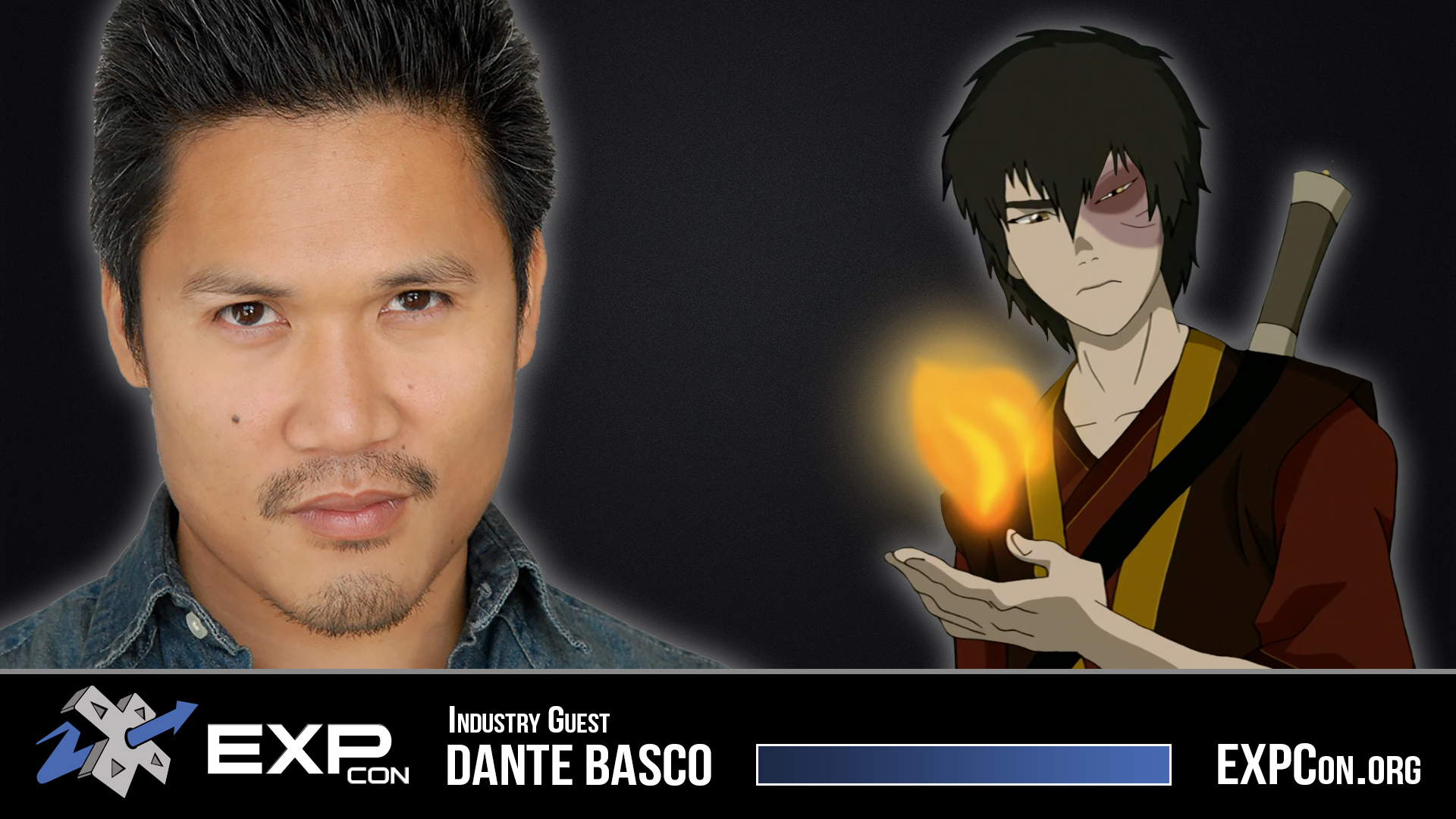 With a career spanning over two and a half decades, DANTE BASCO is a Hollywood actor who has become a cult classic and pioneering figure in Asian American cinema. He was first introduced in Steven Spielberg's fairytale movie Hook, as "Rufio", the leader of the Lost Boys. He quickly jumped to leading roles like Newline's Take the Lead, opposite Antonio Banderas, and The Debut, which became the voice of a Filipino American generation. 20thCentury Fox executives were so mesmerized by the uniqueness of Dante's look and ability that they gave him a development deal for his own series and he starred in a pilot for Touchstone/ABC, The Chang Family Saves the World, written and produced by John Ridley and directed by Paris Barclay. Ever versatile, he's "Jake Long" in Disney's animated series American Dragon: Jake Longas well as "Prince Zuko" in Nickelodeon's phenomenal hit, Avatar: The Last Airbender.
Born and raised in the City by the Bay, Dante started out breakdancing with his three brothers at the age of 8, calling themselves "The Street Freaks". Quickly they became one of the top groups in San Francisco, opening for acts like Ice-T and Vanity and performing during half-time shows for the 49ers and the Oakland A's.
Dante and his family moved to Los Angeles in the mid-80s where he started to work immediately. By the age of 16, Dante was fencing against Dustin Hoffman and flying with Robin Williams in Hook. He's found success on the small screen as well on fromThe Fresh Prince of Bel-Air and recurring on Hangin' with Mr. Cooper and Moeshain the 90's to prominent spots onNash Bridges, Touched by an Angel, and Providencein the early 2000's and hit shows today like CSI: Miami, Entourage andHawaii Five-0.
A young man of many talents, Dante is the founder of on e of the largest weekly poetry venue in the country, "Da Poetry Lounge" in Los Angeles and he has also shared his spoken word poetry on Russell Simmons' HBO Def Poetry Jam. He has also begun writing and producing his own features with his production company Kinetic Films, including Hang Loose, a (hilarious buddy) comedy with YouTube sensation KevJumba, winning the 2012 Los Angeles Asian Pacific Film Festival Special Jury Prizes for "Best Actor" and "Best Newcomer" respectively.
From breakdancing in the streets of San Francisco to starring in movies on the silver screen, Dante Basco has become one of the most recognizable faces in Hollywood and truly an Asian American icon.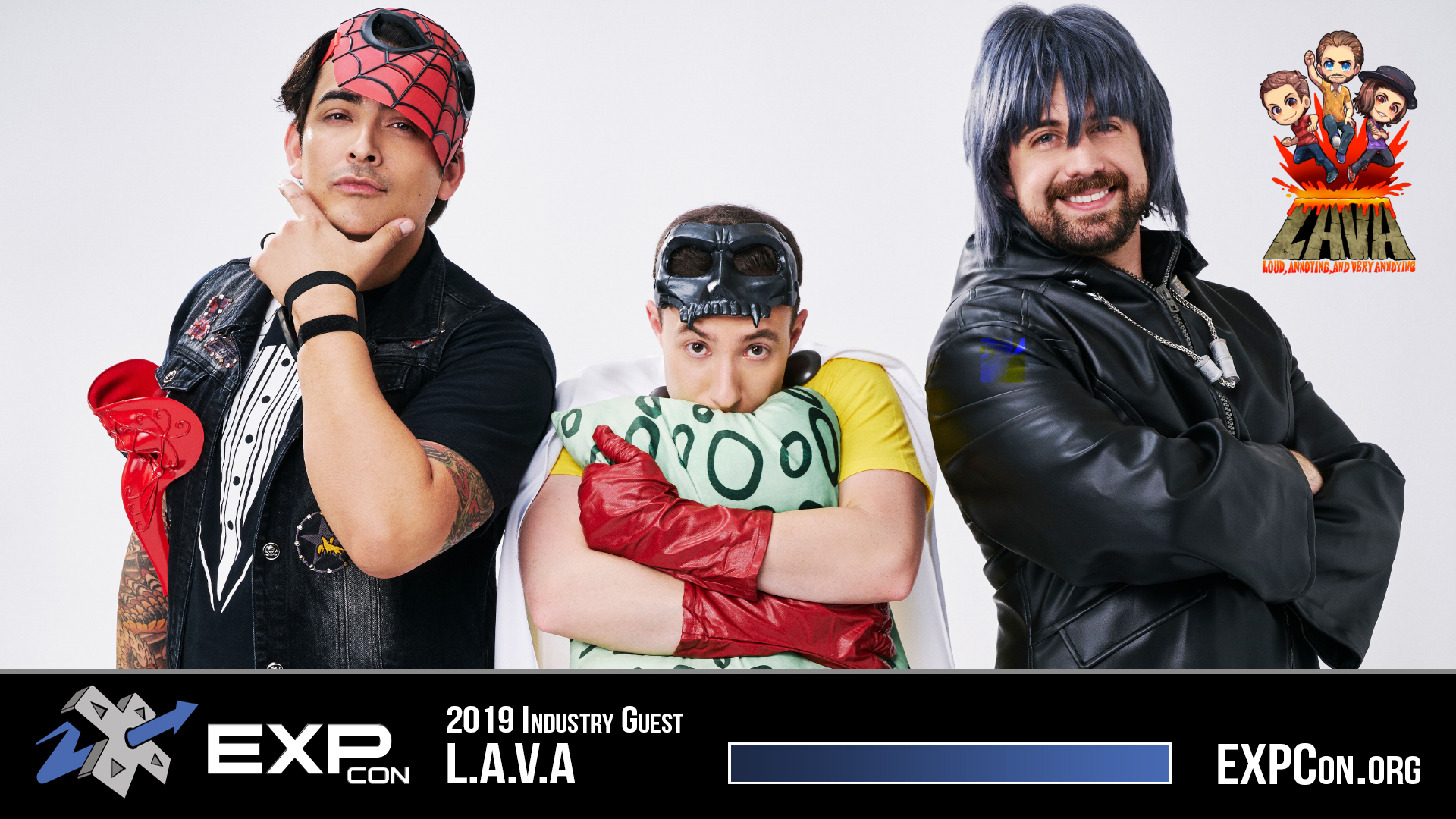 LAVA (Loud, Annoying, and Very Annoying) is when three prolific and acclaimed voice actors get together and get real silly. This show is a high-energy, balls-to-the-wall, audience participation, multimedia driven fan-friendly experience!  Max, Ray, and Robbie have an ever-changing line-up of games, improv, and sketch comedy and video material.  With a great deal of audience participation and prizes to give away, this event is one you don't want to miss!    Max Mittleman – A Los Angeles native, Max has been entertaining audiences from behind the mic, onstage, and in front of the camera since he was in high school. He's enjoyed creating a wide range of characters including Saitama in ONE PUNCH-MAN, Harry Osborn in MARVEL'S SPIDER-MAN, and Ryuji in PERSONA 5.  Ray Chase – By far the most talented and attractive LAVA member, Ray is also extremely humble.  You can hear him as Noctis in FINAL FANTASY XV, Roy in FIRE EMBLEM, Eve in NIER AUTOMATA, and his award-winning turn as Subway Announcer in PERSONA 5.  Robbie Daymond – Voice Artist. Actor. Undercover Nerd. Classically-trained Jack-of-all-trades. Professional Pretender. You can call him Spider-man, Prompto, Tuxedo Mask, Bucky Barnes, Michelangelo, Sorey, Mumen Rider, Aketchi, Mitsuki, SwaySway, Chollo, Ren…whatever.  Just don't call him Bob.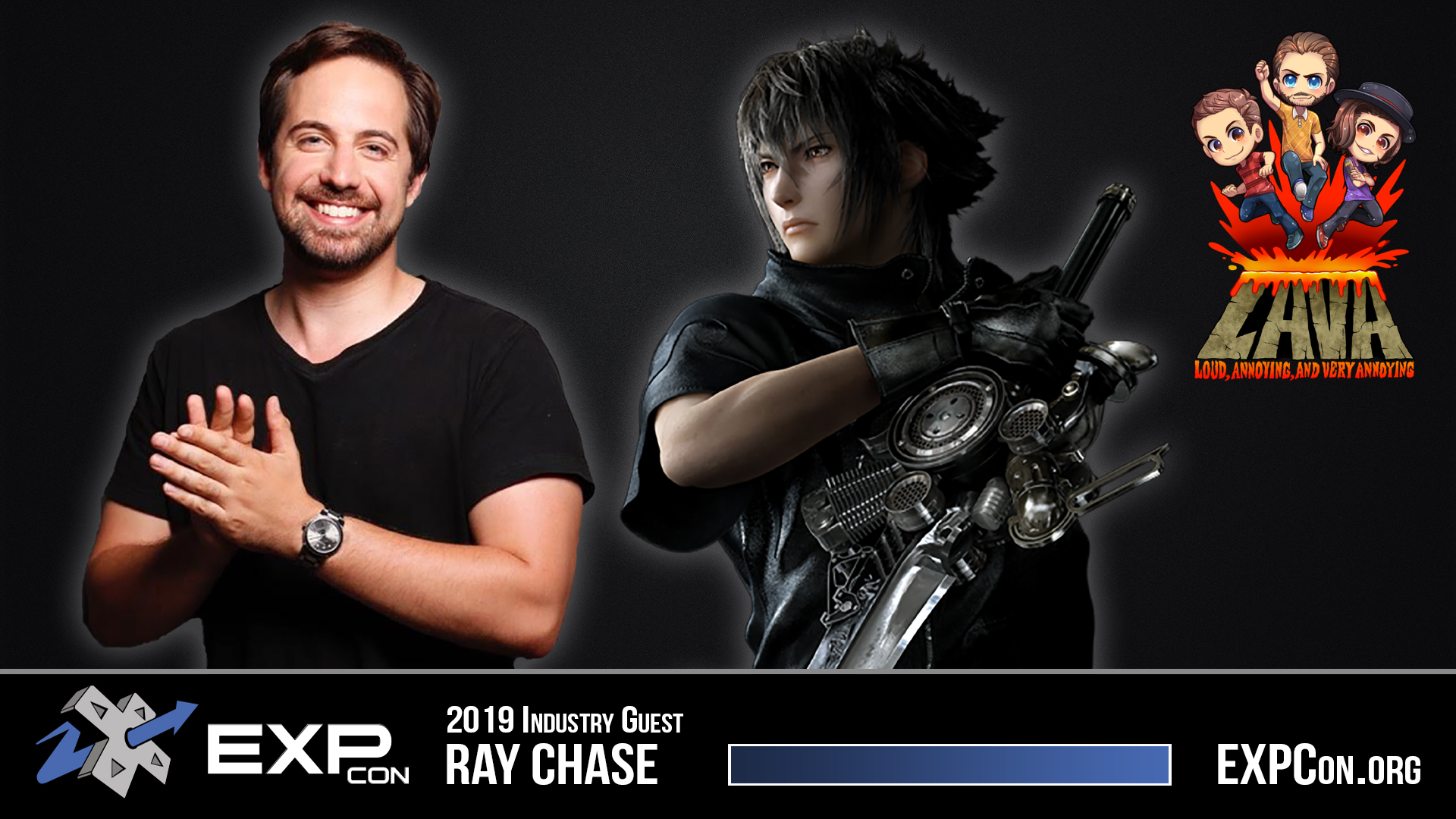 Ray Chase is an American voice actor who has voiced in anime, animations, video games and audiobooks.  He is a proud founding member of the comedy and gaming troupe Loud, Annoying, and Very Annoying (LAVA), which he shares with fellow actors Max Mittelman and Robbie Daymond.
Fans may recognize Chase as the main character Noctis in "Final Fantasy XV"; Master of Masters from "Kingdom Hearts"; Artorius from "Tales of Berseria"; Roy/Gaius/Alphonse/Fernand from "Fire Emblem"; Eve from "Nier Automata"; and his most celebrated role as the Subway Announcer in "Persona 5." He's also made minor appearances in "God of War"; "Mass Effect Andromeda"; "Horizon: Zero Dawn"; "Deus Ex: MD"; "Xenoblade Chronicles X" and "Tyranny."
Chase's anime roles include Roswaal in "Re:Zero"; Keith Flick in "B: The Beginning"; Puri Puri Prisoner in "One Punch Man"; Yuu Otosaka in "Charlotte"; Yukiatsu in "Anohana: The Flower We Saw That Day"; Howzer in "Seven Deadly Sins"; Hanzo/Squala in "Hunter x Hunter"; Rubber Soul in "Jojo's Bizarre Adventure," as well as joining the casts of "Your Name," "Berserk," "Mob Psycho 100," "Gundam: Iron Blooded Orphans," "Blue Exorcist," "Fairy Tail," and many others!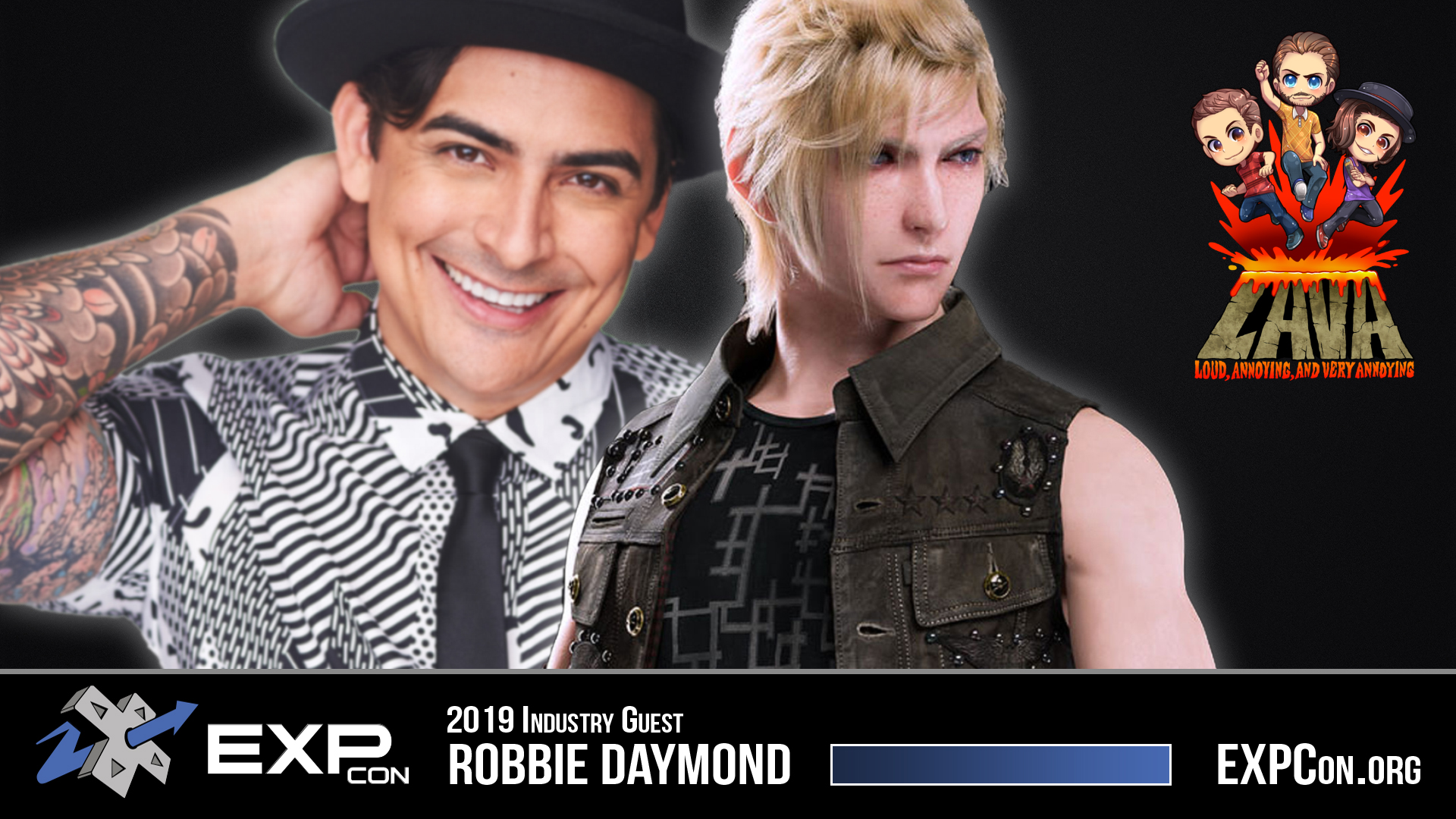 Robbie Daymond – Voice Artist. Actor. Undercover Nerd. Classically-trained Jack-of-all-trades. Professional Pretender. You can call him Spider-man, Prompto, Tuxedo Mask, Bucky Barnes, Michelangelo, Sorey, Mumen Rider, Aketchi, Mitsuki, SwaySway, Chollo, Ren…whatever.  Just don't call him Bob.  He is a proud founding member of the comedy and gaming troupe Loud, Annoying, and Very Annoying (LAVA), which he shares with fellow actors Max Mittelman and Ray Chase.
In the Anime world Robbie may be best known as the most prolific voice of Tuxedo Mask in VIZ's dub of Sailor Moon & Sailor Moon Crystal. He's also played several lead and fan-favorite roles such as: Mitsuki in Boruto, Ikoma in Kabaneri of the Iron Fortress, Mumen Rider in One Punch Man, Joe Kido in Digimon Adventure tri., Chrollo in HxH, Killer T-Cell in Cells at Work, Ren Tsuruga in Skip Beat, Leon Lau in Last Hope, Izuminomkami in Katsugeki/Touken Ranbu, Gilthunder in Seven Deadly Sins, Ide in FLCL Progressive and voiced other shows such as: Megalobox, Gundam: Iron-Blooded Orphans, Naruto Shippuden, Occultic Nine, Baki, Tales of Zestiria the X, Cyborg 009, K: Return of Kings, Fate/Stay Night: Unlimited Blade Works, JoJo's Bizarre Adventure, Sword Art Online 2, God Eater, TerraforMARS, Magi; the Adventures of Sinbad, Durararax2, Charlotte, Lupin the 3rd, Aldnoah Zero, Your Lie in April, Glitter Force, Rock Lee & His Ninja Pals & more. There are also a several others coming up that he can't mention quite yet… 
Robbie is very active in the realm of western animation as well. He stars as series-lead in several shows such as: the current voice of Spider-man/Peter Parker in the Marvel Animated Universe (Marvel's Spider-man, Guardians of the Galaxy, Avengers Assemble & Black Panther) and Sway Sway in Breadwinners. He has starred and reoccurred on other popular cartoons like, Star Wars Rebels, Young Justice, OK-KO Let's be Heroes, Pinky Malinky, Costume Quest, Transformers: Rescue Bots, Ever After High, Bottersnikes and Gumbles, Get Blake, Little People and The Tom & Jerry Show. He has also voiced characters in several feature films, including Shoya in A Silent Voice, Me in I Want to Eat You Pancreas, Toneri Otsutsuki in Naruto the Last, Mitsuki in Boruto; Naruto the Movie, Patema Inverted, Gundam the Origin III, Barbie: Starlight Adventures, Monkey King: Reloaded and Strange Magic, among others. 
Robbie's also a staple in the video game industry, and can be heard in Final Fantasy XV as Prompto, Tales of Zestiria as Sorey, Persona 5 as Akechi, Fist of the North Star: Lost Paradise as Kenshiro, Pokemon GO as Professor Willow, League of Legends as Kayn, Just Cause 4 as Oscar Espinosa, TMNT: Mutants in Manhattan as Michelangelo, Spyro Reignited as Hunter the Cheetah, Agents of Mayhem as August Gaunt, Marvel vs Capcom Infinite as Spider-man, State of Decay 2, Marvel Heroes United, Telltale's Walking Dead, Final Fantasy Type-0, Wario Ware Gold, Judge-Eyes, Star Wars: The Old Republic, The Division, Nier Automata, Fire Emblem: Echoes, Fire Emblem: Heroes, God Eater 1&2, Lego Star Wars: The Force Awakens, Lego Marvel's Avengers, Friday the 13th, Anthem, Radiant Historia: Perfect Chronology, Onmyoji, The Lego Movie Videogame, Technomancer, Trials of Cold Steel II, Shining Resonance Refrain, Akiba's Beat, Masquerada, Aion, Stella Glow, Xenoblade Chronicles X, Atelier Sophie, Exist Archive, Grand Chase, Skyforge, Forbidden Magna, Lineage 2, Etrian Odyssey Untold II, Blade & Soul, Fairy Fencer F and many more!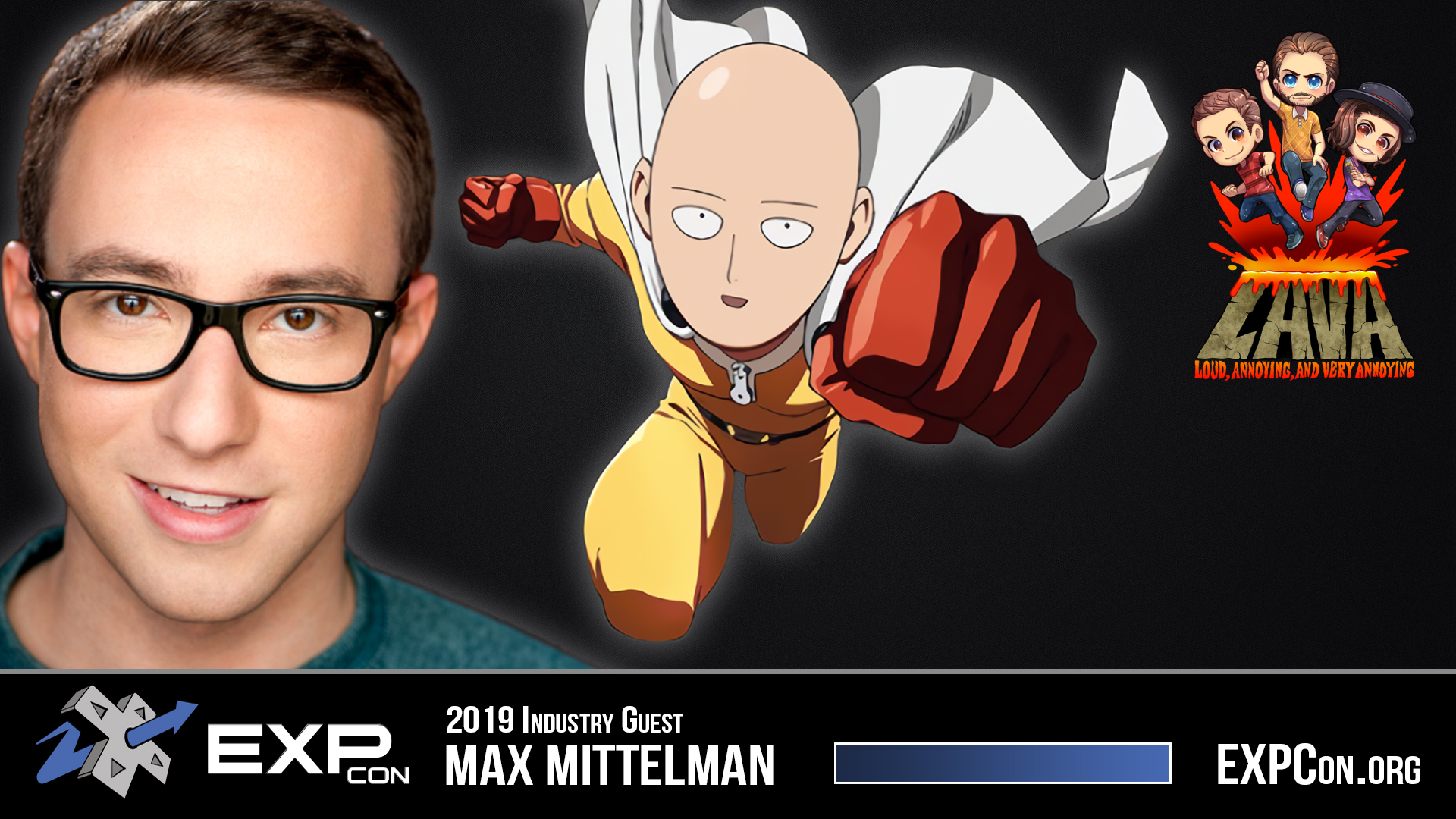 A Los Angeles native, Max Mittelman has been entertaining audiences from behind the mic, onstage, and in front of the camera since he was in high school. His fearlessness has been the foundation for his versatility and he's enjoyed creating a wide range of characters for TV animation and video games.  He is a proud founding member of the comedy and gaming troupe Loud, Annoying, and Very Annoying (LAVA), which he shares with fellow actors Robbie Daymond and Ray Chase.
Although he is well known as Saitama in One-Punch Man, he's also given life the hotheaded troublemaker with a heart of gold, Ryuji, in Persona 5, the carefree and always hungry, Plagg, in Miraculous Ladybug, and the lazy yet virtuous sin of sloth, King, from Seven Deadly Sins.
Other notable roles include: Fire Emblem (Leo, Gray, Kaden, Forrest, Gordin), Marvel's Spider-Man (Harry Osborn), Your Lie In April (Kousei), Kingdom Hearts 2.8 (Luxu), BEN 10 (Overflow), Fallout 4 (Zeke), Mob Psycho 100 (Ritsu), Transformers (Blurr), Justice League: Action (Jimmy Olsen), Elena Of Avalor (Bobo), World Of Warcraft (Prince Farondis), Magi: The Kingdom Of Magic (Yunan), Star Wars: Battlefront (Quarren), Aldnoah.Zero (Inaho), Boruto (Konohamaru), Sao Ii (Jun), Gundam: Iron-Blooded Orphans (Ein), Star Ocean 5 (Fidel), Gundam: Thunderbolt (Io), Tales Of Berseria (Shigure), Starcraft II (Stone), Atelier: Escha & Logy (Logy), Durararax2 (Shijima), Doraemon (Soby), Halo 5 (Rooker), Skylanders (Panderghast).
With plans to become a doctor, Mittleman studied science for four years at USC. Yet he ultimately received his degree from the Theatre Department because he always found himself drawn to what fulfills him the most: creating worlds and telling stories through performance.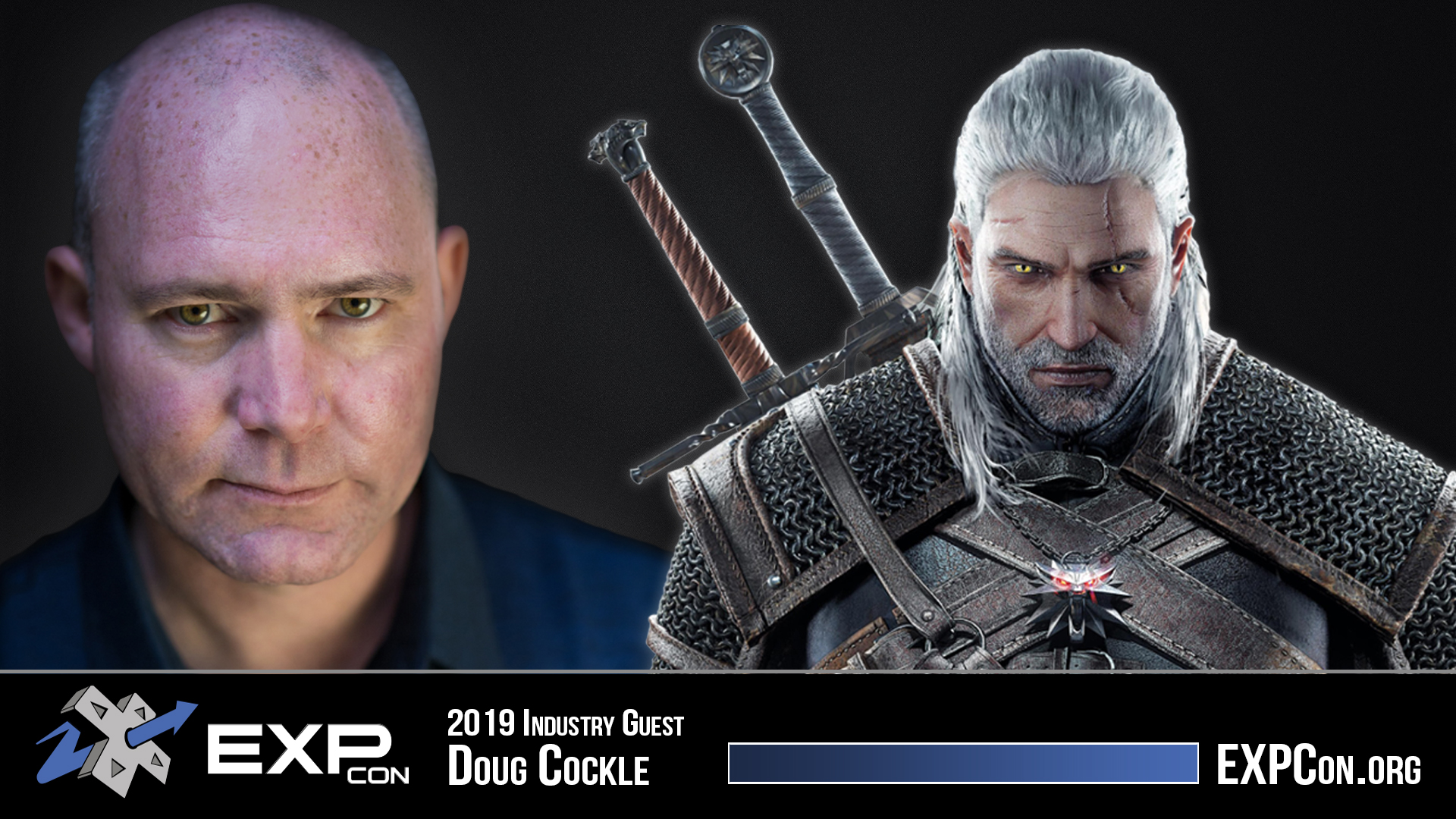 Doug Cockle is an American actor, director and acting teacher living in the United Kingdom. For over 20 years he has worked in theatre, film, television, radio, video games and corporate video. Doug was also the Course Leader for the BA (Hons) Acting degree at the Arts University Bournemouth from 2005 to 2017. Doug has worked extensively in the video games industry and is primarily known for his work as Geralt of Rivia in the Witcher video game series.
Doug has been the voice of Geralt since the series began in 2007 and has been nominated for several awards for his work with this character. These include: BAFTA – Games Awards, Performer, 2016, LA Game Awards – Best Performance, 2015, DICE Awards – Outstanding Achievement in Character, 2016. He also won the following awards: NAVGTR Awards (National Academy of Video Game Trade Reviewers) – Performance in a Drama, Lead (Witcher 3, 2016) and Golden Joystick Awards – Best Performance (Witcher 3, Blood and Wine Expansion, 2016). Doug has also lent his voice to various characters in popular games such as The Division, Quantum Break, and Horizon: Zero Dawn.