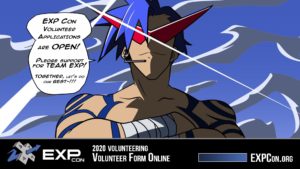 Volunteering at EXP Con
Thank you very much for your interest in volunteering your time at EXP Con 2020 taking place October 16-18, 2020, located in St. Augustine, Florida! Returning for our 8th year to the Renaissance Resort at World Golf Village and St. Johns County Convention Center. 
So….What do volunteers at EXP do, exactly?
Well, a lot of things! Volunteers are extremely important to ensure a fantastic experience. They help staff with event set-up, line control, badge checking, guiding attendees, tech, cosplay, and help break down and clean up.
Woah, that sounds awesome! How can I volunteer at EXP Con?
Potential volunteers must complete the Volunteer Application Form for EXP Con 2020 in its entirety.  Volunteers must be 16 years of age or older.  They must abide by the EXP Volunteer Agreement and the General Convention Rules and Regulations.