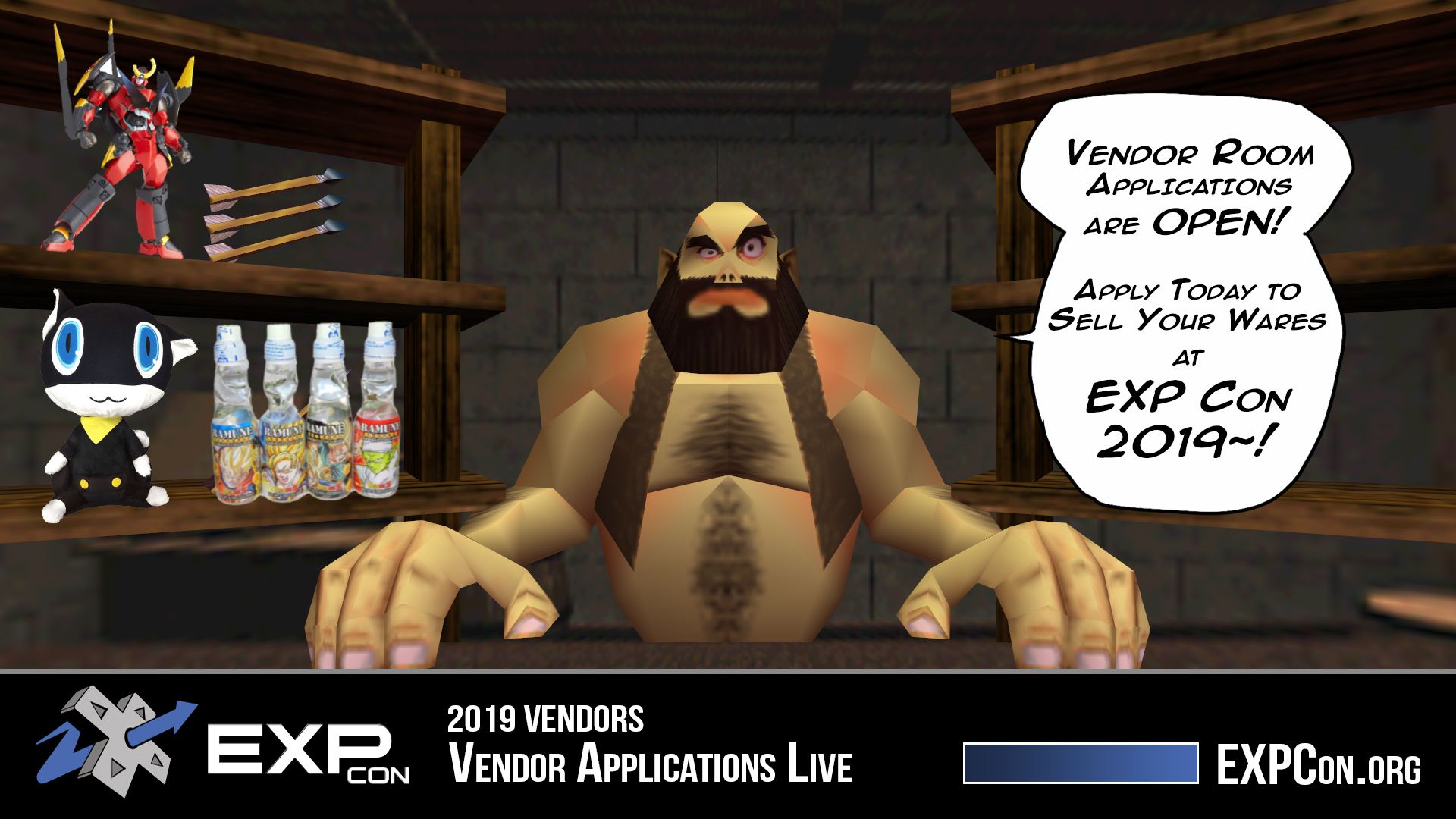 Vendor Information:
Thank you very much for your interest in purchasing a vendor space at EXP Con Year 8. EXP Con 2020 is our organizations's upcoming weekend-long, all-ages, family friendly event to be held at the St. Johns County Convention Center and Renaissance Resort at World Golf Village of St. Augustine, Florida, during the weekend of October 16-18, 2020
We are looking to partner with Vendors and Exhibitors with products and/or services relative to the interests of our attendees. The Vendors Room at EXP Con is a large section of the convention center where genre specific vendors and exhibitors set up to sell their wares or promote their products and/or services.
The North Florida area is a great location filled with many fans of video games, anime, comics,  cosplay, and other related mediums of artistic expression. We look forward to working with you and forming a mutually beneficial relationship in our efforts to bring the fans an awesome experience!
Feel free to contact Ryan_Sweat@EXPConventions.org for any questions you might have. For more information on our events and what sets us aside from the rest please visit our website at http://www.EXPCon.org
Regarding Location and Dates
EXP Con 2020 will be taking place October 11th-13th, 2019 in the St. Johns County Convention Center at the Renaissance Resort at World Golf Village. The World Golf Village is about 15 Minutes away from the heart of St. Augustine and just 10 minutes outside of the city of Jacksonville, Florida.
The location sits in the beautiful World Golf Village located between Jacksonville and St. Augustine. The Convention Center and Hotel are connected and boast an astounding 80,000 sq. ft. of space with over 40,000 sq. ft. in convention meeting rooms. EXP Con will be taking over this entire convention center for the weekend! The vendor room itself is comprised of the St. Augustine ballrooms A and B sections which consist of a little more than 7,200 sq. ft. The address of the convention center is:
The Renaissance Resort at World Golf Village 
500 South Legacy Trail
St. Augustine, Florida 32092
Regarding Spaces and Pricing Structure
EXP Con 2020's Vendor Room will consist of 34 (10′ x 10′) spaces and a designated Autograph overflow area.  The room itself is 7200 sq. ft. and is located in St. Augustine Ballroom A and B. Vendor Spaces come with as many 8′ x 30" tables and chairs as you can fit in your space(s).  End caps and solo spots are considered Premium spaces.  Returning Vendors, Nonprofit Organizations, Clubs,  and/or those staying at the host hotel may be eligible for a discount.
Please check out the Vendor Room Map in the Online Submission Page to help you decide which space(s) you would like to purchase.  Premium Spaces include End-Caps and solo spaces.  If you have any questions, don't hesitate to send us an email an email at Info@EXPCon.org.
The pricing structure is TBD:
Submission of this application will put your space on hold will result in a hold on that space for 72 hours.  Payment must be made before the 72 hour limit has passed in order to secure your spot.  Returning Vendors, Nonprofit Organizations, Clubs,  and/or those staying at the host hotel may be eligible for a discount.
If for any reason you are forced to cancel your attendance at EXP Con 2020, you may do so and receive a 50% refund as long as we are notified at least 75 days prior to the event.  You will receive no refund if you fail to notify us before this time.
Regarding Hours of Operation, Set-up, and Removal
The Vendor Room will be open to attendees during the following days and times:
Friday:  2pm until 8pm
Saturday: 10am until 7pm
Sunday: 10am until 6pm
Set-up and Removal times will be as follows:
Set-up: Thursday October 15th from 7pm till 12am
Set-up: Friday October 16th from 9am till 2pm
Removal: Sunday October 18th from 6pm till 10pm
Please keep in mind that you are required to have your booth ready by 2pm on Friday October 16th and packed up by 10pm on Sunday October 18th.  EXP Conventions Incorporated is not responsible for your items if you fail to be packed up before 10pm on Sunday October 11th.  If you need assistance packing or unpacking your merchandise, the EXP Con Vendor Room Staff would be happy to lend a hand if they are not assisting someone else at that time.
Regarding Methods of Payment and Contracts
We accept Checks, Money Orders, and PayPal as forms of payment. Make Checks and Money Orders payable to EXP Conventions Incorporated. Please do not hesitate to contact Ryan_Sweat@EXPConventions.org for information about payments and this agreement. 
Regarding Terms and Conditions
1. The Vendor assumes all risks associated in connection with Vendors's participation at EXP Con, including but not limited to all risks of theft, loss, harm, damage or injury to the person (including death), property, injury to person, intentional acts, and acts of God or otherwise. Neither the Organizer, EXP Con or the Exhibit Facility (Renaissance Hotel) accepts responsibility, nor shall be liable for, and the Vendor hereby fully and forever releases and discharges the Event and the Exhibit Facility for all losses pertaining to the event
2. The Vendor shall hold the EXP Con and the Convention Center/Host Hotel harmless from any claims, demands, suits, liabilities, damages, losses, costs, reasonable attorney fees and costs which may arise out of or in connection with the Vendor's participation or presence at the Event.
3. EXP Con does not allow Bootleg Merchandise to be sold at its event.  Failure to abide by this rule will result in the Vendor being asked to leave without a refund immediately.  We do not want to kick out any of our Vendors as it is a lose-lose situation for both the Vendor and the event.  Not only will you be asked to leave the event, but you will be banned from attending any future EXP Con events.
4. EXP Con is a show for all ages.  As such, we will have attendees ranging from children to adults.  We do not permit the presentation or sales of adult material containing nudity or obscenity, and vendors must conduct their business in accordance with State and Federal Laws.  The Vendor agrees not to sell any adult materials to minors. If the Vendor is found to have broken this policy EXP Con holds the right to ask the Vendor to leave immediately without a refund, but infractions will be investigated on a case by case basis.
5. State tax is the responsibility of the vendor to collect according to state laws. Sales tax applications may be obtained by calling 850-488-6800 out of state or 800-352-3671 in Florida. Florida state law requires that all Vendors charge 6.5% Florida sales tax separate from the amount of the sale. Vendors are required to receive a state tax ID from the Comptroller of the Treasury before the convention and send in the sales tax. 
6. The hotel and convention center does not permit attaching anything to the walls. Disregarding this rule may result in a fine by the hotel and or convention center.  The Vendor understands and takes full responsibility for his actions in disregarding this regulation and accepts responsibility for the fine assessed by the hotel and or convention center.  If you still wish to hang products and signs we recommend bringing your own freestanding structures.
7. In regards to food and beverage sales, only non-domestic, imported food and drink goods are allowed to be sold at the event.  If you have any questions regarding what can be sold at your space please email the appropriate coordinator.
All Rules and Regulations are subject to change without notice at the discretion of EXP Conventions Incorporated.

 
By submitting this application, you agree to abide by all of the terms and condition as stated in this agreement.