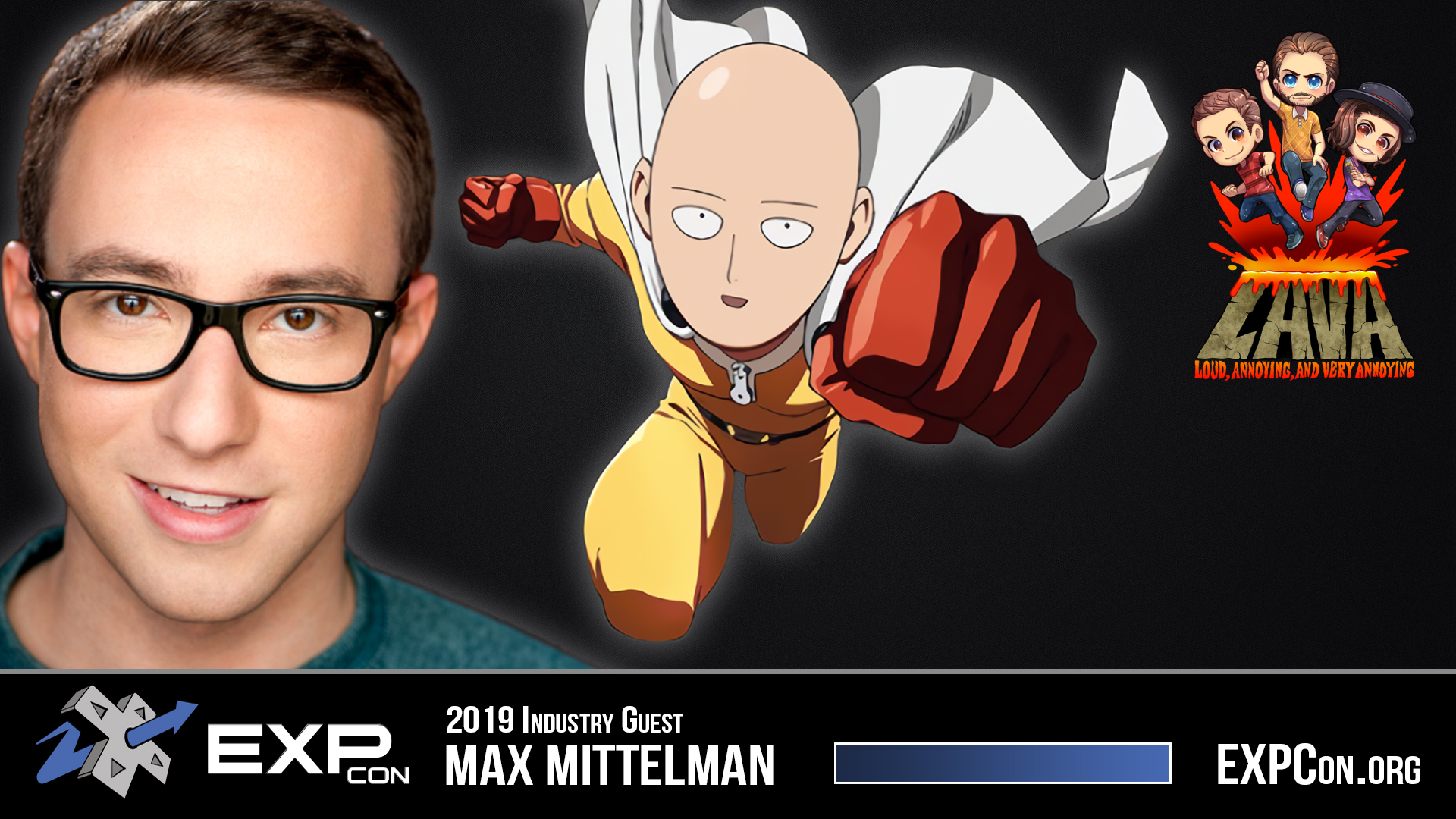 A Los Angeles native, Max Mittelman has been entertaining audiences from behind the mic, onstage, and in front of the camera since he was in high school. His fearlessness has been the foundation for his versatility and he's enjoyed creating a wide range of characters for TV animation and video games.  He is a proud founding member of the comedy and gaming troupe Loud, Annoying, and Very Annoying (LAVA), which he shares with fellow actors Robbie Daymond and Ray Chase.
Although he is well known as Saitama in One-Punch Man, he's also given life the hotheaded troublemaker with a heart of gold, Ryuji, in Persona 5, the carefree and always hungry, Plagg, in Miraculous Ladybug, and the lazy yet virtuous sin of sloth, King, from Seven Deadly Sins.
Other notable roles include: Fire Emblem (Leo, Gray, Kaden, Forrest, Gordin), Marvel's Spider-Man (Harry Osborn), Your Lie In April (Kousei), Kingdom Hearts 2.8 (Luxu), BEN 10 (Overflow), Fallout 4 (Zeke), Mob Psycho 100 (Ritsu), Transformers (Blurr), Justice League: Action (Jimmy Olsen), Elena Of Avalor (Bobo), World Of Warcraft (Prince Farondis), Magi: The Kingdom Of Magic (Yunan), Star Wars: Battlefront (Quarren), Aldnoah.Zero (Inaho), Boruto (Konohamaru), Sao Ii (Jun), Gundam: Iron-Blooded Orphans (Ein), Star Ocean 5 (Fidel), Gundam: Thunderbolt (Io), Tales Of Berseria (Shigure), Starcraft II (Stone), Atelier: Escha & Logy (Logy), Durararax2 (Shijima), Doraemon (Soby), Halo 5 (Rooker), Skylanders (Panderghast).
With plans to become a doctor, Mittleman studied science for four years at USC. Yet he ultimately received his degree from the Theatre Department because he always found himself drawn to what fulfills him the most: creating worlds and telling stories through performance.
Autograph, Photo, etc. Info:
The EXP Con 2019 General Admission Autograph Access Card allots the opportunity to get one signature from Max Mittelman, free of charge.

 

The item to be autographed must be provided by the attendee (EXP swag or whatever else) for the Guest to sign. This is a punch card.

 

Once you have claimed your autograph opportunity for this guest, you are subject to their general autograph rates and conditions for subsequent signatures.

 

You can use the EXP Con 2019 General Admission Autograph Access Card during the Main Events Autograph Sessions throughout the weekend.