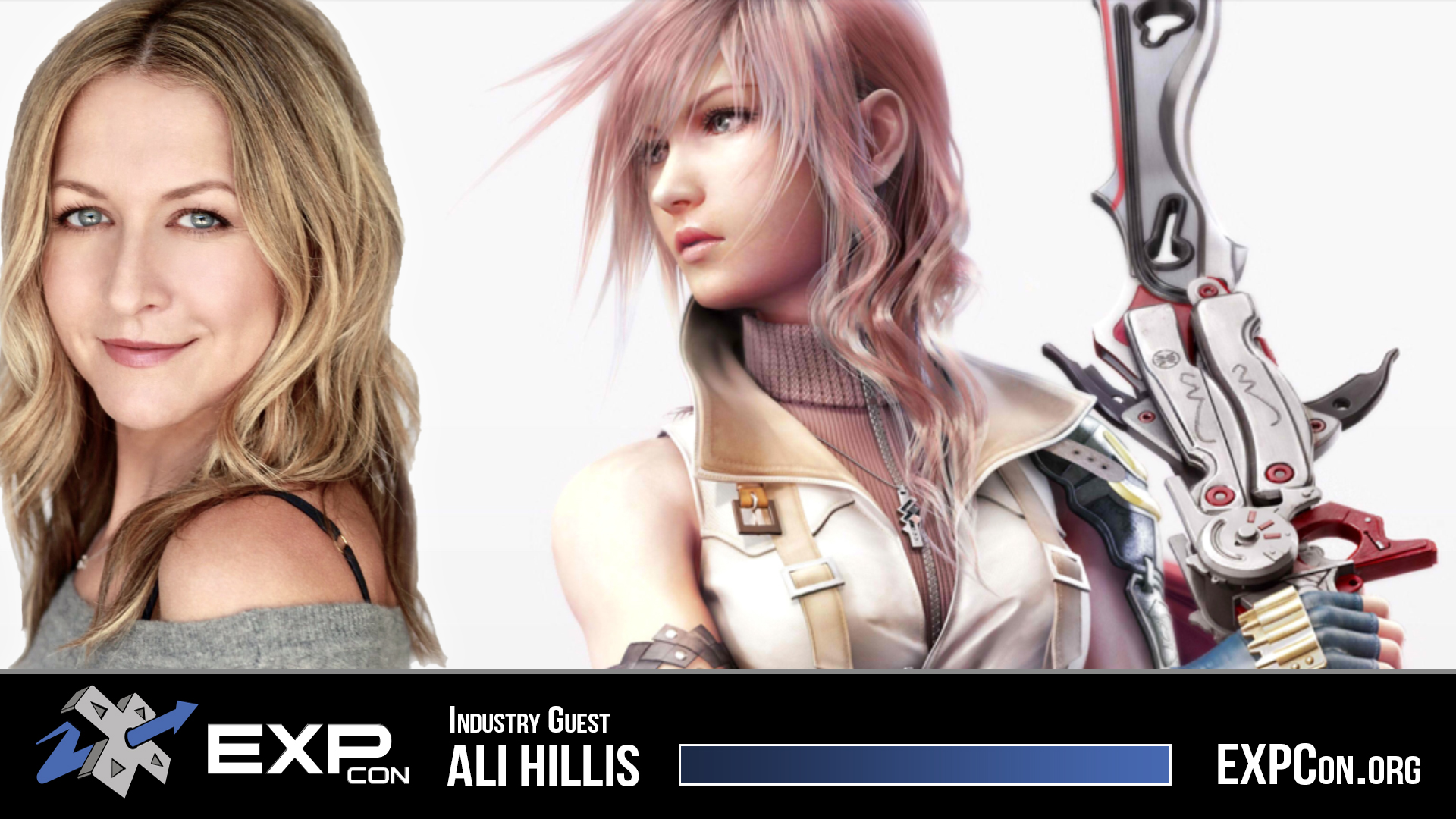 Most celebrated in the Con World for voicing iconic roles like Lighting in the FINAL FANTASY franchise and Liara T'Soni in the MASS EFFECT trilogy, Ali Hillis also brings with her a growing crew of video game characters that keep fans coming back for more! She voices Karin in NARUTO, Palutena in KID ICARUS, Ruby in THE WALKING DEAD, Scout Harding in DRAGON AGE, Sophia in GEARS OF WAR, Samantha Cross in CALL OF DUTY, as well as memorable roles in SPIDER-MAN, RATCHET & CLANK, LEGO MARVEL'S AVENGERS, MAD MAX, FUSE, TALES OF XILLIA, ADERA, STAR WARS: THE OLD REPUBLIC, STARCRAFT II, & XENOSAGA, to name a few. You've also heard Ali in hit animated series' including Karin in NARUTO, Pepper Potts in MARVEL DISC WARS: THE AVENGERS, Emma Frost in X-MEN, as well as lending her voice to fun roles in CLOSE ENOUGH, AMERICAN DAD, REGULAR SHOW, & FAMILY GUY, with more new shows in the works!
Though she's built quite a name for herself in the world of video games & animation, Ali spends a lot of her time on screen. You may recognize her from 2019's last several episodes of ABC's GREY'S ANATOMY, or from her arc on FOX's 9-1-1, CBS's CSI, NCIS, NCIS: LA, & CRIMINAL MINDS BEYOND BORDERS, John Singleton's REBEL on BET, and the gone but not forgotten BONES on FOX, and CASTLE on ABC. Her big screen credits include memorable roles opposite big names in films including festival favorite THE ROAD WITHIN, the Farrelly Brothers' HEARTBREAK KID, 20th Century FOX's THE ULTIMATE GIFT,  Disney's BEVERLY HILLS CHIHUAHUA, Warner Bros MUST LOVE DOGS, and many more! The first of which was the cult favorite KISS KISS BANG BANG… "Buzz buzz, go away Mr. Fly". *See full list of credits on IMDB.com
If work, family life, and 3 dogs didn't keep her busy enough, Ali loves to spend time rescuing, spay-neutering, rehabilitating, and homing sweet animals from LA's streets and animal shelters. So don't be surprised if she has a little raffle or auction happening at her table!! 100% of the proceeds goes to the animals! Enter to win some fun swag!!  Follow Ali on Instagram and Twitter @MissAliHillis for winner announcements and to see what else she's up to!!
Autograph, Photo, etc. Info:
The EXP Con 2019 General Admission Autograph Access Card allots the opportunity to get one signature from Ali Hillis, free of charge.

 

The item to be autographed must be provided by the attendee (EXP swag or whatever else) for the Guest to sign. This is a punch card.

 

Once you have claimed your autograph opportunity for this guest, you are subject to their general autograph rates and conditions for subsequent signatures.  You can use the EXP Con 2019 General Admission Autograph Access Card during the Main Events Autograph Sessions throughout the weekend.